Dr Niamh Boyle / Tel: 071-9010100
Niamh Boyle – Specialist Oral Surgeon / BDentSc MFD FFD (OSOM) FFD (OS) RCSI DipConsSed (Newcastle)
Irish Dental Council number 5600 Specialist List Oral Surgery number 17DS11
Niamh is a registered Specialist in Oral Surgery with the Irish Dental Council.
Dr. Niamh Boyle qualified from Trinity College Dublin in 2000 with 1st class Honours. She was awarded the Sheldon Friel Prize for achieving first place in the final dental examinations. Niamh undertook her training in Oral Surgery in the Cork University Dental School and Hospital and the Midwestern Regional Hospital in Limerick.
Niamh obtained success in the Membership Examinations (2002), Fellowship examination in Oral Surgery and Oral Medicine (2005) and the Fellowship examination in Oral Surgery (2011) from the Royal College of Surgeons in Ireland. She is particularly interested in the management of anxious dental patients and completed an 18-month postgraduate training programme in Conscious Sedation at the University of Newcastle-Upon-Tyne in 2008. She was awarded the Diploma in Conscious Sedation from the University.
She has been involved in undergraduate and postgraduate teaching, working as a part-time lecturer in the Cork University Dental School and as a tutor in Oral Surgery at Queen's University Dental School in Belfast. She has also lectured locally to her dental and medical colleagues keeping them up to date with latest developments in the fields of oral surgery, implant dentistry and sedation.
Her practice is limited to Oral Surgery, Implant Dentistry and Conscious Sedation and she is the only Specialist Oral Surgeon working full-time in Sligo. Niamh is originally from Donegal and is married with 3 small children. She is a fully participating member of VHI, Aviva, Quinn and other medical insurers groups. 
Dr Boyle is a member of the Irish Association of Oral Surgeons and the Irish Dental Association.
Division of Oral Surgery as of 25 September 2018
Dr Boyle receives referrals for consultation and treatment in her clinics from the general dental and medical practitioners all over the region. She also works in Specialist Dental Practice with Dr David Mc Conville, Specialist Orthodontist and Dr Edward O'Reilly, Specialist Prosthodontist in the clinics in Sligo and Donegal.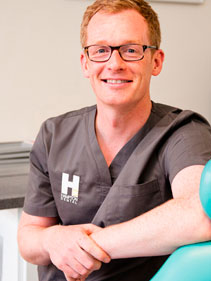 DR EDWARD O'REILLY is a Specialist Prosthodontist
B.Dent.Sc. M.F.D.(R.C.S.Ireland) M.Dent.Ch. (D.Univ.) (Prosthodontics)
Dr Edward O'Reilly qualified from Dental School, Trinity College Dublin in 1997. He commenced his professional life with a Junior House Officer role in Dublin Dental Hospital immediately after qualification, which was then followed by both General Dental practice jobs and a Senior House Officer post. This time in general practice allowed Edward to realize that he wanted to go further with his professional training.
Having completed the membership exams to the Royal College of Surgeons at Dublin in 2001, Edward then completed the 3 year full time Masters Programme in Prosthodontics in Dublin Dental School.
He is now working in private practice in Dublin limited to Prosthodontics and Implant Dentistry in Hampton Dental while maintaining a part-time faculty teaching position in the Restorative Department in the Dublin Dental Hospital and School.
Edward also continues to provide a range of continuing dental education lectures and courses for General Dental practitioners.

B.Dent Surg, MBBChBAO, MSc, MRCS(Irel), FFDRCS (Irel)
Oral Surgery, Facial Pain & Oral Medicine
Dr (Mr) Deepak Thomas is a Specialist Oral Surgeon and holds  a Medical and Dental Degree. He is on the Irish register of Specialist Oral Surgeons. After finishing his Medical Degree at Trinity College Dublin, he successfully completed his Intercollegiate Membership training and examinations in Surgery from the Royal College of Surgeons
Mr Thomas also possesses a Masters in Global Health from Trinity College Dublin and a Fellowship in Oral Surgery and Oral Medicine from the Royal College of Surgeons in Ireland. He has worked for over 6 years in several major Oral and Facial Surgical training units in the UK, at Medical Council-validated Specialist Registrar level posts. He has gained excellent exposure to higher surgical training in all aspects of Oral and Maxillofacial Surgery during his time abroad. His practice at North West Oral Surgery, in Sligo is limited to services in specific aspects of Oral Surgery, Facial and Jaw Joint Pain and also Oral Medicine. Intravenous conscious sedation services for anxious patients is also available. Mr Thomas is a fully participating provider with major private health insurers and has admitting rights and privileges as a Consultant to Kingsbridge Private Hospital, Sligo for patients who require a general anaesthetic. Mr Thomas is also a Clinical Supervisor, teaching hands-on minor Oral Surgery to Final Year Students in Dentistry at the Dublin Dental Hospital.
Irish Dental Council Specialist List no   : Oral surgery 8DS02